Our goal is to offer our industry leading services to you at no cost so you can continue helping others with your core mission.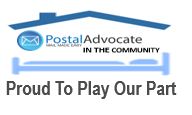 As the largest managed service provider of mail audit and recovery in the US and Canada with over 215 years of industry experience, Postal Advocate is committed to playing our part in the community. Since 2013, Postal Advocate has helped our clients save an average of 56% in this category.
As a way to give back, Postal Advocate will offer these services to homeless shelters and food banks across North America to help them uncover savings and optimize spend in the mailing category at no charge.
With these savings, homeless shelters and food banks will be able to reallocate these funds to more shelter, food, counselling…
The goal is $100,000 in mail savings.
How It Works:
Postal Advocate will review your mailing equipment to insure:
Your organization is paying the lowest possible price for the right equipment
Assist in negotiating pricing with your current or other vendors (at your discretion)
Eliminate any unnecessary fees
If your current agreement is not up for renewal, we will manage your mailing details until it's time to renew
What We Need From You:
A copy of your current mailing agreement
A copy of your most recent invoice
Estimated monthly postage spend
Current equipment provider
Designated contact person throughout this process
In 2021, we executed several corporate social responsibility initiatives. We planted 500 trees in California through One Tree Planted to help with the reforestation efforts due to wildfires in the area. Also, in lieu of sending out physical holiday cards this year, a $1000 donation was made on behalf of our clients to Rosie's Place, which is a homeless shelter for over 12,000 women and children in Boston each year.