Effective June 2024, the USPS® will be requiring that all mailing systems meet Intelligent Mail Indicia (IMI) standards. The Postal service will no longer be allowing any vendor to distribute postage meters that are not producing compliant IMI on June 30, 2024. Furthermore, the decertified meters must be taken out of service by December 31, 2024. Postage meter vendors must also stop leasing/renting non-IMI-PC compliant meters for a term that extends beyond the withdrawal date. "Postage indicia printed by Decertified PES (Postage Evidencing Systems) will no longer be considered valid postage for use or refunds after June 30, 2025."
Therefore, all postage machines that are not compliant with these new requirements will need to be upgraded by this time. Upgrading machines can be expensive and may require new long-term lease commitments. The new mailing systems must be constantly connected to your network.
If you or your organization needs more information or guidance on this subject, as experts in the mailing industry, Postal Advocate, would be happy to help! Click here to connect with us.
To learn more about IMI Compliance, take a look at this helpful document.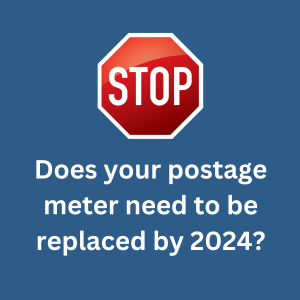 Vendor IMI Compliance Links: