Postal Advocate manages the mailing and shipping spends for some of the largest organizations in North America. This webinar will focus on the different rate increases across all carriers and how it will impact your organization.
Items We Will Cover: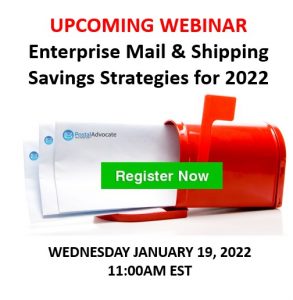 Rate increases for all Carriers
Savings areas to consider to reduce the impact of the increases
Details of accessorial charges and what you need to know
Rate Shopping savings opportunities
Visibility – This is the key to optimizing your mailing & shipping portfolio
Best practices and tips
We hope you can join us. You will be surprised at the savings you can find. Register here. 
Speaker Bio:
Adam Lewenberg – President/CEO of Postal Advocate Inc., with over 25 years of industry experience runs the largest managed service provider of mail audit and recovery services in the US and Canada.