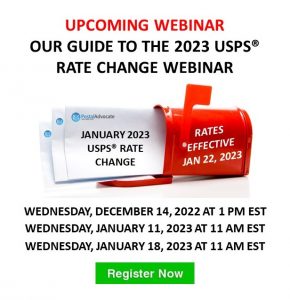 Postal Advocate manages the mailing and shipping spends for some of the largest organizations in North America.
At this session, we will be discussing the upcoming USPS® 2023 rate change. Postal Advocate will share all the important information you need to know for this coming rate change that goes into effect on Sunday, January 22, 2023. We will hold 3 different sessions on this topic.
We Will Cover:
What rates are changing
How this impacts you
What you need to do
Savings tips
We hope you can join us.
Speaker Bio: Adam Lewenberg is the President/CEO of Postal Advocate Inc., the largest shipping, mail audit and recovery firm in the US and Canada. They work with organization to reduce mailing equipment costs, eliminate fees, recover lost postage from dormant accounts, create visibility across the enterprise and act as first line customer service responders.  Since 2013, Postal Advocate Inc. helped their clients save an average of 55% and over $76 million on equipment, fees, and lost postage.