As of April 10, 2023 the USPS® filed notice with the Postal Regulatory Commission (PRC) for price increases that would take effect July 9, 2023. This will be the second rate increase this year. In addition, effective June 2024, the USPS® will be requiring that all mailing systems meet Intelligent Mail Indicia (IMI) standards.
This webinar will focus on the details of the proposed rate increase and the forced migration, how to budget for the increase, how to prepare for this deadline, and the top things you can do to create ongoing visibility and control to help streamline your organization's needs.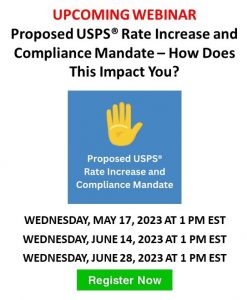 Items We Will Cover:
Details of the proposed increase and how it impacts you
How to budget for the increase
Details of the forced migration
Devices impacted and timelines
Creating visibility to your equipment that needs to be migrated
Mail equipment options available
Enterprise Online Postage solutions – Where and why these systems make sense
Rightsizing strategies that can save up to 80%!
Planning and implementation
Ongoing visibility and control of future migration phases
We hope you can join us.
Speaker Bio: Adam Lewenberg is the President/CEO of Postal Advocate Inc., the largest mail audit and recovery firm in the US and Canada. They work with organizations to reduce mailing equipment costs, eliminate fees, recover lost postage from dormant accounts and create visibility across the enterprise. Since 2013, Postal Advocate Inc. helped their clients save an average of 56% and over $84 million on equipment, fees and lost postage. At this session he will be presenting everything you need to know about the upcoming