Postal Advocate manages the mailing and shipping spends for some of the largest organizations in North America. Everything you hear on the news is how mail is going away and becoming less relevant as a means of communication.  The objective of this webinar is to go through what is actually happening today and where mail will go in the future. 
Items We Will Cover: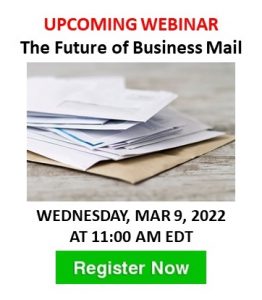 Mail declines in different categories
The Impact of Rate Increases
Mailing Technology Changes
Future Predictions
Best Practices to Reduce Cost
We hope you can join us. You will be surprised at the savings you can find.
Speaker Bio:
Adam Lewenberg – President/CEO of Postal Advocate Inc., with over 27 years of industry experience runs the largest managed service provider of mail audit and recovery services in the US and Canada.