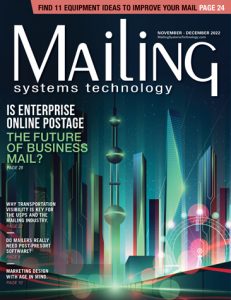 Our article made the cover! Published in the November/December 2022 Issue of Mailing Systems Technology.
If you want to learn more about "Why Enterprise Online Postage will be the Future of Business Mail," then check out this article written by Postal Advocate President/CEO, Adam Lewenberg. The article can be found on pages 28-30.
In many organizations it is easier to send a $15 overnight package than a $.57 letter. This does not make any intuitive sense, but it is based on where we work and what access we have to technology.