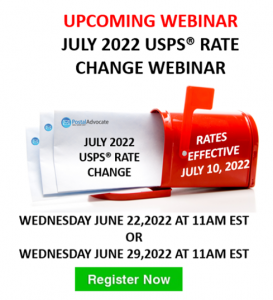 In preparation for the USPS® rate increase taking effect July 10, 2022, Postal Advocate will share all the information you need to know about this upcoming rate change:
– Savings tips
– What rates are changing
– How this impacts you
– What you need to do
We hope you can join us.
Speaker Bio:
Adam Lewenberg, President of Postal Advocate Inc., runs the largest provider of mail audit and recovery services in the US and Canada. Since 2013, Postal Advocate Inc. has helped their clients save an average of 56% and over $73 million on equipment, fees, and lost postage.