Postal Advocate manages the mailing and shipping spends for some of the largest organizations in North America. Most of the spend never touches a shipping center, is not a core shipping function (including documents, samples, computers, labs, etc.), and will be processed by end users with little experience. This creates unique challenges and opportunities for savings that often get missed. In addition, the world is changing and so is the way we communicate. Documents still need to be generated and processes need to evolve.
At a corporate level, many organizations will use a third-party company to audit their carrier bills, looking for late shipments or items that do not adhere to their contract. Some entities may also use a service to help negotiate their rates. Where we see the biggest gap is the way the spend is managed inside the organization that can have the largest impact on costs.
This webinar will focus on the new technology and services available and the top things you can do to create better controls and help streamline your organization's needs.
Items We Will Cover: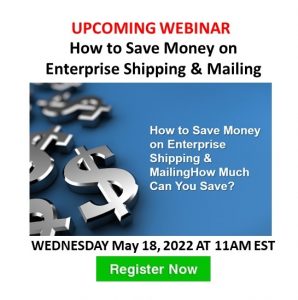 The Evolution of Shipping & Mailing
Enterprise Visibility
Web Accessed/Cloud-Based shipping & mailing solutions

Online Postage
Enterprise Online Postage
Multi-Carrier enterprise shipping and mailing

Administrative Challenges
Account Management
User Management
Rights Management
Case Management – Local Questions/Issues Resolution
Reporting
Rate Shopping
Address Validation
Single Sign-On
Best Practices and Tips
We hope you can join us.
Speaker Bio:
Adam Lewenberg is the President of Postal Advocate Inc., the largest mail audit and recovery firm in the US and Canada. They work with organizations to reduce mailing equipment costs, eliminate fees, recover lost postage from dormant accounts, and create visibility across the enterprise. Since 2013, Postal Advocate Inc. helped their clients save an average of 56% and over $73 million on equipment, fees, and lost postage. At this session he will be presenting everything you need to know when buying mail equipment and software.